The Green Making Housing Collection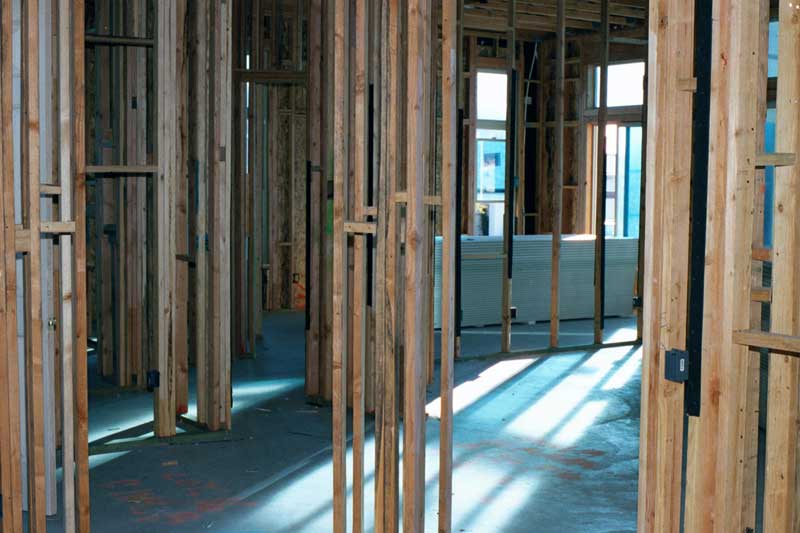 Where can you find good examples of green homes? We've created our own inventory. These are homes that represent what people are actually doing to build or remodel houses using green principles.
Available Nationwide
• Clayton iHouse Pre-fab green home by Clayton Homes. See additional views from Popular Mechanics.
• LEED House by Belmonte Builders in Albany, NY: LEED certified, high-efficient mechanical system, drought resistant landscaping, drip irrigation, water efficient faucets and fixtures, by Belmonte Builders
International
• (X) House in Ordos, Inner Mongolia, China: Part of the Ordos 100 project, a melon-shaped house that dynamically manages light, heat and air with a heat-absorbing outer shell, funnel-shaped lighting tubes and ventilation, and passive design by Multiplicities.
• Atria Green Residencies Penthouse Flat in Hong Kong: An eco-friendly 880-square-foot apartment in a tong lau by KF Development includes PVs and solar water heaters.
• Big Green Homes (worldwide): WebEcoist provides views of some of the largest "green" homes, with spaces up to 15,000 square feet.
• Cambridge Eco-House (likely) in Crossway, Kent, UK: A zero-carbon home with timbrel vaulting (a method from medieval Spain) and triple-glazed windows by architects at Cambridge University in the UK. Find additional information in this article.
• Dairy House in Somerset, UK: Remodeled dairy building with wood/glass laminate addition and restoration by Skene Catling de la Peña.
• Florblanca Reserva in Santa Teresa, Costa Rica: A sustainable design resort in Costa Rica by William Hezmalhalch Architects.
• German Passive Homes in Darmstadt, Germany: Homes with no furnaces that have ultrathick insulation and complex doors and windows use heat exchangers for fresh air.
• Hof House at Arctic Circle in Skagafjörður Fjord, Iceland: A passive solar house near the Arctic Circle built with salvaged materials, green roof, solar power, hydroelectric power, geothermal heat, concrete walls by Studio Granda.
• Kita House in Tokyo, Japan: A hypo-allergenic house powered by an Enefarm fuel cell that generates electricity for the house while heating water, energy graphing thermostat, and low-VOC surfaces with weathered cedar panels by architect Sachiko Zenyouji of Organic Table.
• Light House in Tropical Nature Preserve in Bird Island, Kuala Lumpur, Malaysia: Lightweight bamboo frame wrapped in a tensile, environmentally-friendly fabric sways over a tropical stream.
• Mill Creek Net Zero Home in Edmonton, Alberta, Canada: An ongoing project to build a zero-net energy home in the Mill Creek area of Edmonton.
• miniHome in Toronto, Ontario, Canada: Sustain Design Studio created five models of green travel trailers.
• Oberen Berg House in Stuttgart, Germany: PassivHaus-concept, 5,000 square foot home with massive walls, triple glazed windows, solar electricity, geothermal heat pump, and easily sub-dividable living spaces by Alexander Brenner.
• Palmyra Palm House in Mumbai, India: A house from local and sustainably-harvested Palmyra palm with tree shade used for temperature control by designer Studio Mumbai.
• Pride's Rest in St. Croix, Virgin Islands: A hurricane-proof house semi-sunk into the hillside to lower energy use, nearly off-grid with its own energy production, water treatment, and geothermal ground heat exchange by Lindsay Brown Studio of San Diego, CA.
• Shire Strawbale Home in Emyvale, Prince Edwards Island, Canada: An ongoing project to build a hybrid infill straw bale house.
• Sliding Roof House in Suffolk, UK: Glass house with movable timber overshell, brush seal insulation, solar power, underfloor heating, wind turbine power, geothermal heat pump by DRMM Architects. (More pictures at Russell House Diary.)
• Two Calgary Homes in Calgary, Canada: Both homes are made with ICF (Insulated Concrete Form) construction, steel frames, and concrete floors. Folio Homes Duplex--Multi-zone radiant heating, high efficiency boiler, airlocked rear door, computerized lighting, bamboo cabinets, non-toxic components. Coley Homes--Passive solar, advanced combustion fireplace, and geo-exchange pipes.
• Villa Överby on the coast of Sweden: A self-sufficient house that desalinates water from the nearby ocean, heats and cools via a geothermal ground heat exchange pump, with limestone plinth and super-insulated glass by John Robert Nilsson. (See additional coverage at Dezeen).
Virtual
• Shaker Meeting House and Dwelling House Recreations of White Water Shaker Village by the Center for the Electronic Reconstruction of Historical and Archaeological Sites at University of Cincinnati.
Listings By Geographical Area
12060 Atlanta-Sandy Springs-Marietta, GA Metropolitan Area
• Muise Solar Porch Roof in Lamar County, GA: Porch roof shades patio and house with solar panels (video) by Solar Source of Barnesville, GA.
13380 Bellingham, WA Metropolitan Area
• Rylant Cabin in Glacier, WA (east of Bellingham in the Cascade Mountains): Method Homes prefab cabin available 400 to 1,800 square feet.
14460 Boston-Cambridge-Quincy, MA-NH Metropolitan Area
• Bateson Colonial in Andover, MA: 4,100-square-foot colonial home features thermal envelope wall panel system with offset studs, Energy Star windows, low-flow plumbing, rainwater cistern, reflective under-roof, and low-VOC materials by West Meadow Construction.
• Cheimets Superinsulated Home in Arlington, MA: Homeowner Alex Cheimets wants to superinsulate his home. The roof will have an R-value of 59, and the walls an R-value of 39.
• Colonial Freegreen Home in Needham, MA: Energy Star certified, rainwater recovery and irrigation, radiant heating, spray foam insulation, geothermal water furnace, low-VOC paint and floor finishes, automated lighting controls by Stevens Burke, LLC.
• Net-Zero Home in Portsmouth, NH: Little Green Homes is constructing LEED "platinum" single-family residence in Portsmouth.
• This Old House: Weston in Weston, MA: PBS home improvement series This Old House built a LEED silver-certified home.
15980 Cape Coral-Fort Myers, FL Metropolitan Area
• Microhouses in Cape Coral, FL: 1,500-square-foot near zero-energy and storm-resistant homes with solar heated water, ICF (insulating concrete form) walls, Icynene insulation, LED lighting, solar panels, solar-heated water, low-E glazing, and metal roof by Greencastle.
16980 Chicago-Naperville-Joliet, IL-IN-WI Metropolitan Area
• mkSolaire in Chicago, IL: The mkSolaire model home is a featured attraction by Michelle Kaufmann at Chicago's Museum of Science and Industry.
• Yannell Net-Zero Energy Home in Chicago, IL: A 2,600-square-foot net-zero-energy Yannell residence with upside-down roof to capture rain water, greywater system, 10 KW PV capacity, geothermal wells, radiant heat, and triple-paned windows designed by Farr Associates and built by Goldberg General Contracting. Additional coverage at Wired and Jetson Green. Greywater reference at Empirical Opera.
18140 Columbus, OH Metropolitan Area
• LEED Traditional Home with Porch in Columbus, Ohio: First LEED Platinum home in Ohio with solar thermal and photovoltaic solar, no- and low-VOC materials, recycled materials, and rain garden by the Home B.A.S.E. Foundation and many partners.
19740 Denver-Aurora-Broomfield, CO Metropolitan Area
• Stapleton Home in Denver, CO: A LEED-Gold certified 2,700-square-foot near-zero-energy home featuring recycled-glass counters, solar electric power, heat pump, and LED fixtures built by Harvard Communities.
26420 Houston-Sugar Land-Baytown, TX Metropolitan Area
• Loes Green Rebuild in Houston, Texas: Rebuilt home featuring agriboard construction, metal awning over roof to deflect sun, pier and beam construction for air circulation under house, low flow plumbing, solar lights, recycled flooring, and cistern by architect Deborah Morris and builder Brad Robertson.
28140 Kansas City, MO-KS Metropolitan Area
• Brookside Container House in Kansas City, MO: Two bedroom container home of 2,000 square feet with geothermal heat, soy foam insulation and bamboo flooring by Home Contained.
28300 Keene, NH Micropolitan Area
• Unity Home near Walpole, NH: A LEED-Platinum modular prefab home featuring passive heating, tight thermal insulation, triple-glazed windows, high transmissivity clerestory windows, solar panels, and concrete slab foundation by Bensonwood Homes
29540 Lancaster, PA Metropolitan Area
• Stoltzfus Home in Hempfield Crossing, PA: NAHB-certified home featuring tankless water heater, cellulose insulation, low flow plumbing, no- and low-VOC paints and carpet, Energy Star appliances, and energy-saving windows by EG Stoltzfus.
29820 Las Vegas-Paradise, NV Metropolitan Area
• Builder's Challenge Award Winner in Las Vegas, NV: Large (5,200-square-foot) demonstration home over 50% more energy-efficient than standard homes, featuring insulated concrete form (ICF) walls, solar power, spray foam insulation, Energy Star appliances and CFL lighting, tankless water heater, recycled wood garage doors, recycled glass countertops, and 95% AFUE furnace by NextGen Home and Aronson & Associates Architecture.
• Marquis Community Smart Homes in Las Vegas, NV: Luxury 9,000 square-foot futuristic homes with tankless water heaters, additional insulation, energy-efficient appliances, solar power, and Smart Home technology by developer Blue Heron Builders.
31100 Los Angeles-Long Beach-Santa Ana, CA Metropolitan Area
• Builder Magazine LivingHome 2009 Concept Home in Santa Monica, CA: Two-story 2,466-square-foot hybrid modular/panel sample by LivingHomes for the 2009 International Builders' Show in Las Vegas, NV. The home will then travel to Long Beach, CA, for TED 2009.
• Glenn Net-Zero Green Prefab in Santa Monica, CA: First LEED Platinum home. Modular home with low-emissions, energy-saving features (solar power, high-performance windows, LED lighting, radiant heat), and sustainable landscaping (rainwater re-harvesting, drought-tolerant plants, living roof garden).
• Logical Homes in Manhattan Beach, CA: Homes made from shipping containers from DeMaria Design Associates.
• Malibu Ranch Guest House in Malibu, CA: Fireproof steel frame, concrete and glass guest house with PVs and a geothermal pump system by Group3 Architects.
• Pre-Fab Green Home in Culver City, CA: Affordable pre-fab 4,200-square-foot home by Sander Architects, which is low-maintenance and small carbon footprint.
• Rock Row in Los Angeles, CA: Heyday Partnership is building LEED-certified, affordable houses in their "Rock Row" development in the Eagle Rock neighborhood of LA.
• Solar Umbrella in Venice, CA: Two-story 1,900-square-foot home with amorphous PV canopy that protects the body of the house from thermal gain and provides all electrical needs, plus solar hydronic heating panels and storm-water retention system by Pugh + Scarpa Architects.
• The Gatsby Hollywood All solar-powered, all-green urban community of 34 detached homes by MasterCraft Homes Group.
• Tree House in Studio City, CA: The Tree House Project completed a two-story, four-bedroom 2,400-square-foot home by Vision Development includes heat recovery system for used hot water.
32820 Memphis, TN-MS-AR Metropolitan Area
• TERRA House in Memphis, TN: 1,800-square-foot demonstration TERRA house featuring passive ventilation, insulated concrete form (ICF) construction, soy-based insulation, a tankless water heater, energy-efficient windows, and a greywater recovery system designed by students at the University of Memphis Department of Architecture and built by DPC Construction.
33100 Miami-Fort Lauderdale-Pompano Beach, FL Metropolitan Area
• Acqua Liana in Manalapan, FL: A USBGC certified "Green Mansion" with solar panels, runoff water collection, low-energy lighting and air conditioning, and reclaimed and renewable wood construction by real estate artist Frank McKinney.
• Modular eHomes from Cargo Containers in Boca Raton, FL: Envision Prefab turns cargo containers into prefab homes.
33460 Minneapolis-St. Paul-Bloomington, MN-WI Metropolitan Area
• Kraft Split Level Home in St. Louis Park, MN: Bamboo floors, recycled paper counter tops, solar light, recycled fireplace beams, double-pane windows, extra insulation, and high-efficiency furnace and water heater.
35300 New Haven-Milford, CT Metropolitan Area
• Design/Build Green Homes in Branford, CT: Portfolio of homes by Green Homes.
35380 New Orleans-Metairie-Kenner, LA Metropolitan Area
• GREENbuild in New Orleans, LA: Prefab three bedroom 1,200-square-foot with optimized solar orientation, PVs, solar water heating panels and all-fluorescent lighting by Tulane School of Architecture.
35620 New York-Northern New Jersey-Long Island, NY-NJ-PA Metropolitan Area
• Bernstock Concrete Form Home in Milford, PA: A 2,600-square-foot house constructed with ICF (Insulating Concrete Forms), gas boiler hydro-coil system, salvaged wooden beams, recycled asphalt milling driveway, by Lattimore Construction
• Manhattan Townhouse in New York, New York: A renovated townhouse in a brownstone on the Upper West Side by Gleicher Design Group.
36420 Oklahoma City, OK Metropolitan Area
• E4 Energy Efficient Home in Edmond, OK: A house featuring energy recovery vent, dual-flush toilets and geothermal climate control by Red Rock Builders.
37980 Philadelphia-Camden-Wilmington, PA-NJ-DE-MD Metropolitan Area
• The 100K House in Philadelphia, PA: Stylish LEED Gold or Platinum homes targeted at $100K by Postgreen.
38900 Portland-Vancouver-Beaverton, OR-WA Metropolitan Area
• Living Building Challenge homes in Portland, OR: Three builders are completing homes for the Cascadia Region Green Building Council Living Building Challenge, which encourages low-impact, high-efficiency projects to serve as models for wider-spread residential or commercial development. Participants include The Commons (by Dustin and Garrett Moon at site [website may not function]), the June Key Delta House Community Center (Sienna Architecture, probably out of business), and the Kenton Living Building (SERA Architects).
• Recycled Car Framed Home in Portland, Oregon: Home using recycled cars for framing also features blown-in foam insulation, prefabricated rigid foam insulated exterior walls, high efficiency furnace, passive vents, and Energy Star rating by Miranda Homes. More information at Green Building Elements.
39100 Poughkeepsie-Newburgh-Middletown, NY Metropolitan Area
• Salt Point House in Salt Point, NY: By Thomas Phifer and Partners, 2,200-square-foot house on a meadow with views to a small private lake. Won a 2009 Institute Honor Award for Architecture from the American Institute of Architects.
39300 Providence-New Bedford-Fall River, RI-MA Metropolitan Area
• Green Life Smart Life in Narragansett, RI: A LEED-H Gold certified 4,5290-square-foot home that used spray-foam insulation, geothermal HVAC, rainwater harvesting system, low-flow plumbing, zero-VOC finishes, recycled-content stone veneer, reclaimed hardwood floors, sustainable cedar shingles, recyclable slate roofing by Laura Krekorian, architect.
• Surfside Narragansett in Narragansett, RI: Nominated for a 2009 NAHB Green Building Award, a remodel featuring Energy Star qualified windows, doors, appliances and HVAC system, Icynene Insulation System, Kultur wood flooring, and Green Seal Certified Paints by Gilbane Development Company.
40140 Riverside-San Bernardino-Ontario, CA Metropolitan Area
• Desert Ranch Home in Palm Springs, CA: LEED H Silver water-efficient home in the desert features drought tolerant and pest controlling plants, tankless water heater, high efficiency plumbing, high-performance fireplace, solar power, thermal mass walls, highly insulated doors and windows, and high efficiency appliances and lighting by ZDS Architects.
40900 Sacramento--Arden-Arcade--Roseville, CA Metropolitan Area
• Green Senior Home Model in Roseville, CA: Eskaton Senior Services green home model for seniors with GrandCare System to monitor elderly family members.
• La Valentina Affordable Green Housing in Sacramento CA: This net-zero apartment complex by david baker + partners located at a light rail line features solar panels, LED lighting and a rain screen. Built by Domus Development.
• Mormon Street House in Folsom, CA: New 1,940-square-foot LEED Platinum house by John Packowski of PHA Architects and built by RJ Walter Homes named Green Builder Magazine "Green Home of the Year" 2008.
41500 Salinas, CA Metropolitan Area
• Mickey Muennig Cooper Point House in Big Sur, California: Off the grid, solar panels, sod roof, and drought-tolerant plants by architect Mickey Muennig.
41860 San Francisco-Oakland-Fremont, CA Metropolitan Area
• 131 Hillside in Mill Valley, CA: LEED-H Certified 2,116-square-foot custom home by Scott Lee of SB Architects and built by McDonald Construction and Development.
• 5th STREET pads Live Work Units in Berkeley, CA: 1360 - 1640 Sq ft. live/work townhomes featuring solar panels, recycled paper and jeans insulation, SIP Panel Roof System, green non-thermally bridged insulated structural system, sustainable wood siding over rain screen exterior, FSC certified cherry flooring, double glazed windows by GREEN pads.
• Alamo Creek Development in Danville, CA: A 1,400-unit development with net water demand of zero via dual-flush or high-efficiency toilets and low-flow showerheads, water-saving washing machines and dishwashers, recycled water landscaping and water-efficient plants by Shapell Homes.
• CAZNEAUpads in Sausalito, CA: GREENpads built green modern crafts homes in town.
• Crescent Cove in San Francisco, CA: Affordable stacked townhome housing near CalTrain terminal by David Baker + Partners.
• Earthsheltered Hillside Home in Mill Valley, CA: A multi-generational home with living roof, earth-sheltered, and no heat or air conditioning by McGlashan Architecture.
• Glen Park Residence in San Francisco, CA: 2,500-square-foot energy-efficient home by Strachan Forgan, senior architect at Sasaki Associates.
• Green Condos in Berkeley, CA: Architect/builder Maurice Levitch condos 2,000 square feet 200 GreenPoint rating.
• Harrell/Benson House in San Mateo County, CA: Remodeled 22-year-old house by design-build firm Harrell Remodeling Design + Build with solar panels, handicapped access, and multiple green options.
• Light Filled Modular Home in San Rafael, CA: Single-family "six zero" home from factory built modules featuring green roof, graywater and rainwater reuse, energy tracking system, passive cooling, thermal chimney, 2.4 KW photovoltaics, daylighting by Kappe + Du Architects
• Margarido House in Oakland, CA: Large LEED-H Platinum and GreenPoint Rated home in Oakland Hills by McDonald Construction and Development (with video tour by owner).
• Mcgee House in Berkeley, CA: A 1,140-square-foot in-fill house made from recycled materials, including over 100 car roofs, Dodge Caravan side windows, salvaged redwood, FSC-certified and sustainable components, and recycled integrally-insulated shipping container, with drought-tolerant landscaping by Leger Wanaselja Architects. CNN Money video. Solar Decathlon tour video.
• Net Zero Home in Palo Alto, CA: A 1,000-square-foot annex of a large compound by William Duff Architects that uses cutting-edge building technologies throughout the design to create a net-zero energy and carbon-neutral building.
• Plaza Apartments in San Francisco, CA: 106 affordable highly efficient green studio apartments with on-site mental and physical health services for the residents by Leddy Maytum Stacy Architects. Won a 2009 Institute Honor Award for Architecture from the American Institute of Architects.
• Wheeler Residence in Menlo Park, CA: A 5,000-square-foot midcentury flavored home featuring passive ventilation, radiant floors, solar hot water, PV power, salvaged and recycled materials (denim, glass, fly-ash), and low-VOC paints designed by William Duff Architects.
41940 San Jose-Sunnyvale-Santa Clara, CA Metropolitan Area
• Cedar Stucco Home in Los Altos, CA: Outside cedar panels and stucco blend with surroundings by JSW Architects.
• Donna Kitchen in Mountain View, CA: Green kitchen remodel in 1930s-era bungalow by Spectrum Fine Homes with slate tile and honed-quartz counters.
• Harrell/Benson House in San Mateo County, CA: Remodeled 22-year-old house by design-build firm Harrell Remodeling Design + Build with solar panels, handicapped access, and multiple green options.
• Net-Zero Historical Remodel in Palo Alto CA: A 2,780-square-foot 1936 Tudor-style home remodeled with solar roof panels, foam and cellulose insulation, energy-efficient acoustic glass windows and other sustainable materials, Energy Star appliances, LED and fluorescent lights, energy monitoring system, low-flow plumbing, water recirculation system, and greywater irrigation by designer/contractor Timeline Design.
• Powell Home in Mountain View, CA: Green remodel of 1,300 square-foot 1940s-era cottage by Spectrum Fine Homes with zero-VOC paint, bamboo and Marmoleum floors, double-pane windows, air leak remediation, and other green features.
• Rainwater Harvesting in Los Altos, CA: Julie Orr Design used rainwater harvesting and greywater to provide landscaping for this house on 1.5 acres.
42140 Santa Fe, NM Metropolitan Area
• Armstrong-Barr Home in Santa Fe, NM: A traditional southwest-style desert home featuring solar panels, closed cell foam insulation, rainwater cistern irrigation, xeriscape landscaping, FSC-certified cherry floors, natural plaster walls, and compact fluorescent lighting by designer Mitchell Smith and builder Solarsmith.
42660 Seattle-Tacoma-Bellevue, WA Metropolitan Area
• Footprint at the Bridge Townhomes in Seattle, WA: A 7,700-square-foot motel transformed into seven townhouses featuring solar panels, recycled rainwater for toilets and landscaping, triple-pane windows and extra insulation, electric car rechargers, and low-VOC finishes by Johnston Architects. (Additional information at AIA Seattle.)
• zHome Project in Issaquah, WA: A 10-unit production net-zero energy town home project with 200 foot-deep ground source heat pumps, FSC-certified woods, solar panels, in-floor radiant heat, rainwater cisterns, and extra insulation by Ichijo USA.
43300 Sherman-Denison, TX Metropolitan Area
• Cushion House in Grayson County, TX: A straw bale house with geothermal heat, local cedar ceiling, stained concrete floors, and wrap-around concrete porch.
43540 Silverthorne, CO Micropolitan Area
• Fischer Chalet in Breckenridge, CO: A prefab mountain chalet with recycled steel framing, spray foam insulation, efficient low-e windows, R-40 roof, daylighting, LED lighting, pre-cast concrete and foam foundation, high efficiency furnace, bamboo flooring, low-flow water fixtures, and Energy Star appliances designed by Blu Homes.
• Solar Village Prefab Homes in Silverthorne, CO: Affordable, pre-built green homes featuring high-efficiency insulation, solar hot water and power, and low-VOC products by builder Anthony Ryan Associates.
45060 Syracuse, NY Metropolitan Area
• R-House in Syracuse, NY: A From the Ground Up competition winner, this two-story house features a building envelope made from corrugated aluminum that wraps around a concrete interior featuring wooden floorboards and plywood wall panels by NY architects ARO.
46020 Truckee-Grass Valley, CA Micropolitan Area
• Welch Home in the Foothills in Nevada City, California: A 2,700-square-foot open view home with solar electricity and water, radiant heating, cast aluminum heat exchanger, evaporative cooling, structural insulated panel (SIP) roofing, formaldehyde-free insulation, Energy Star appliances, salvaged wood and low-flow plumbing by Wilson Associates architect and builder Dovetail Construction.
47260 Virginia Beach-Norfolk-Newport News, VA-NC Metropolitan Area
• Wright Beach House in Hampton, VA: 3,200-square-foot house on Chesapeake Bay with low heating costs with preliminary plans from architect Laura Lintz and refinements by Solar Center's Dona Stankus.
47900 Washington-Arlington-Alexandria, DC-VA-MD-WV Metropolitan Area
• Jigsaw House in Bethesda, MD: Recycled single-story home with continuous spatial flow around an open air courtyard by David Jameson Architect. Won a 2009 Institute Honor Award for Interior Architecture from the American Institute of Architects.
R-CA California Rural Areas
• Fort Irwin Family Housing in Fort Irwin, CA: 915 for-rent duplex homes on military reservation in the Mohave Desert by Torti Gallas and Partners.
R-NY New York Rural Areas
• Westchester Green Homes in Chappaqua, Katonah and Pelham, NY: Homes in Westchester County include a colonial, a Mediterranean-style, a farmhouse and other examples.
R-VA Virginia Rural Areas
• Bertschy Straw Bale House in Buckingham, VA: A passive-solar 730-square-foot (interior) straw-bale house built with local clay adobe bricks, salvaged plumbing fixtures, scrap tile and marble, and Lehman furnishings.
Note: Homes listed are not affiliated with Green Making.
---